Given the city's passion for sustainability and green spaces, any Menlo Park home is made complete by choice greenery. A notable Tree City, USA community, Menlo Park is famous for going out of its way to support green initiatives. Between the arid, sunny climate and the constant warm temperatures, you'll be able to find vegetation suitable for any garden, lawn, or landscape, whether it belongs to a single-family house, townhouse, condo, or mansion estate.
Bougainvillea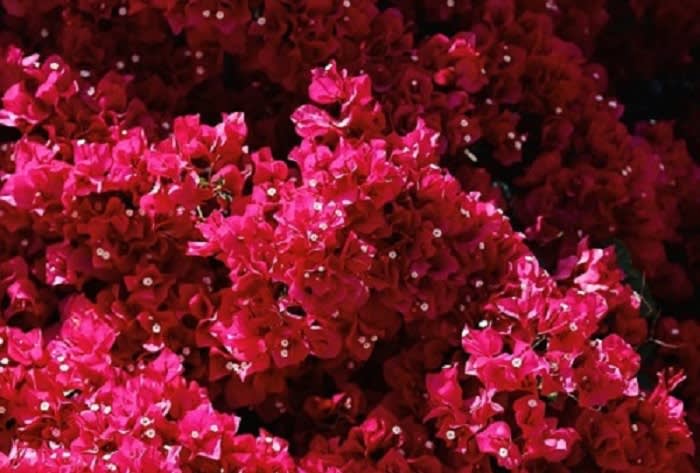 This flowering powerhouse is certain to add vivacity and appeal to any garden. One thing I love about these plants is that, depending on the variety, these enchanting, chromatic blossoms can be grown in a variety of ways. This means that whatever suits your fancy is more than doable, from cultivating a bonsai, climbing over an arbor, fence, or trellis, as a hedge or shrubbery, or even in tree form. That flexibility, coupled with the fact that once the plant has been established, it is excellent at withstanding droughts and long, sunny days, makes it an ideal mainstay for any lawn in Menlo Park.
Climbing Floribunda Rose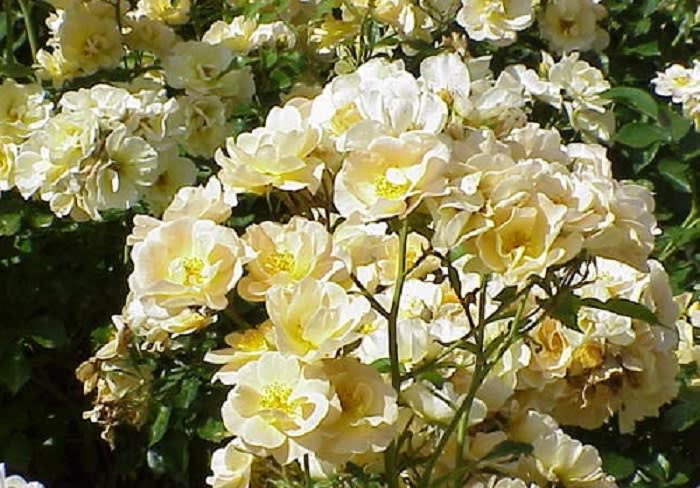 One of my favorite things about the Floribunda Rose is that it allows for gorgeous, cultivated roses without guzzling down water. Plus, the fact that the stems are nearly completely thorn-free means it's a great option for anyone looking to spruce up their green spaces without worrying about their children or pets getting hurt. Not to mention, these flowers are known for their strong, sweet, fruity scent and are perfect for cutting, meaning your dining room table can have an elegant addition as well as your lawn.
Blue Vervain

Vervain is a welcome addition to any Menlo Park garden since it not only produces unique, prim, and pretty flowers, it's a herbaceous plant, meaning it's an annual occurrence. After the blooming season, these flowers will wilt until next spring, when their repeat performance ushers in the season. Hardy and found all over the West Coast, this plant is a favorite due to its medicinal properties as well as its alluring scent, which attracts birds and bees, creating a charming ecosystem right in your backyard.
Freesia Alba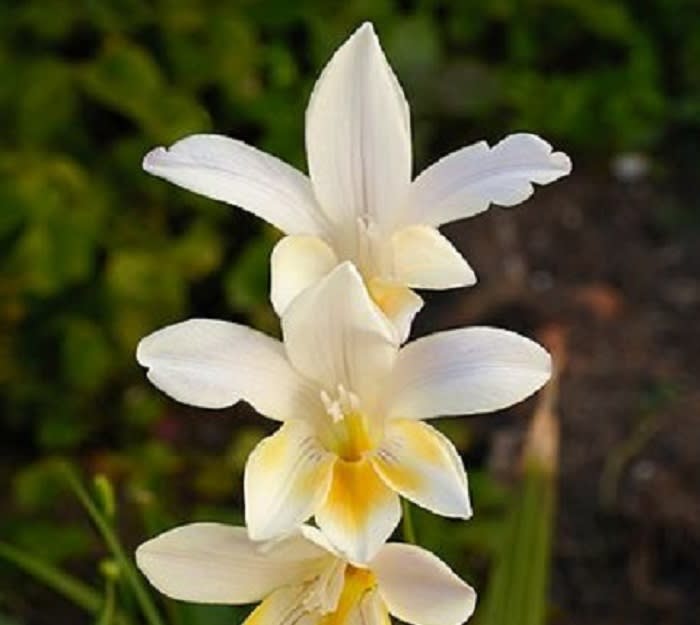 Accompanied by thick, green foliage, this bulb plant can be grown as an annual but is also perfect for those of us who prefer to delight the interior of our home since Freesia Alba is more than suitable for growing in containers. Don't let that deter you from planting it outdoors, though, since its welcoming scent of honey and mint, plus its rich green ground coverage, makes it a widely popular plant.
Valley Meyer Lemon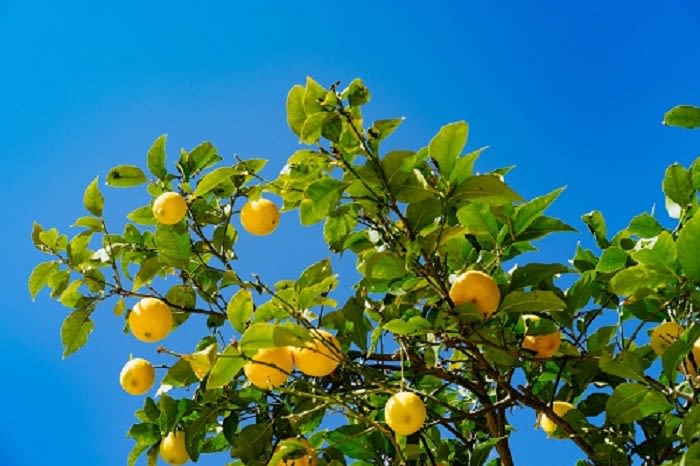 In my opinion, the best thing about this tree compared to other foliages is not only its evergreen leaves but the fact that it bears fruit. There's nothing more rewarding or satisfying than homegrown lemons in that first glass of summer lemonade—or mixed drink. Plus, having a tree on your property is estimated to do more good than enjoying just the aesthetics as landscaping, particularly with trees, increases your property value—to say nothing of the health benefits of regular access to citrus and its sweet, clean scent.
Sweet or Navel Orange

I thought we'd keep the citrus train moving with the strikingly beautiful orange tree. With shining, thick leaves and bright orange fruit, raise this tree on your Menlo Park property for both easy access to sweet, lush fruit and to liven up the backyard. Since these trees have evergreen leaves and flourish in places with balmy temperatures, you won't have to wait for a season to enjoy the verdant sights—just for the fragrant blossoms, which can occur more than once a year and attract bees, making this tree helpful for the rest of garden as well.
Tall Morning Glory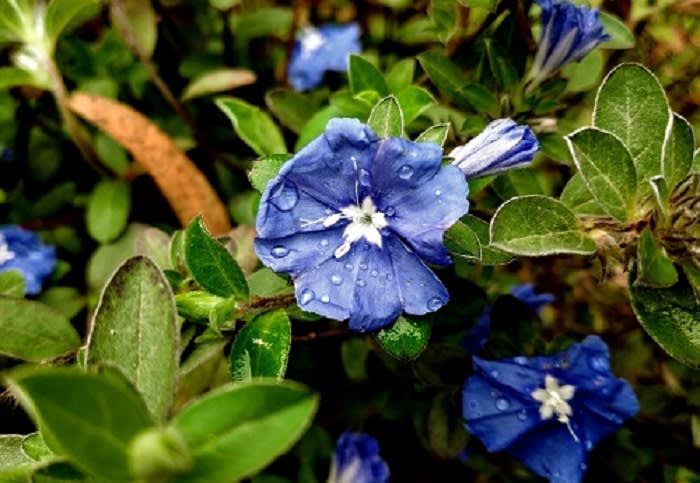 A sublime cloak to any fence or trellis, tall morning glories can come in numerous shades to complement your property, from magenta to fuschia to even burgundy and violet. Famous for their one-and-done blossoms, each flower only blooms once before closing by the following evening, making morning glories highly cherished. These ephemeral blossoms also project a pleasant, aromatic scent all day, creating an ever-expanding and relaxing atmosphere.
Lantana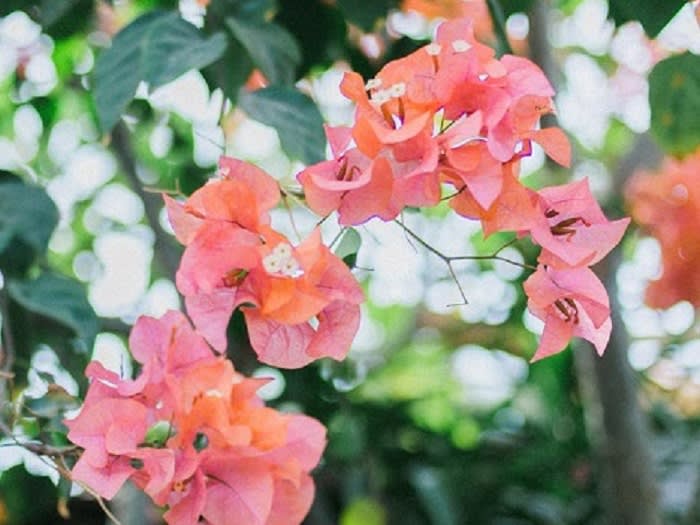 Lantanas have long been popular because of their extended bloom time, but in warm, temperate locations such as Menlo Park, that bloom time is even longer—it can be as long as year-round! These exquisite, multicolored blossoms dot out from rich green foliage, and never fear—after the initial planting, lantanas are extremely simple to care for as all they require is water.
Oleander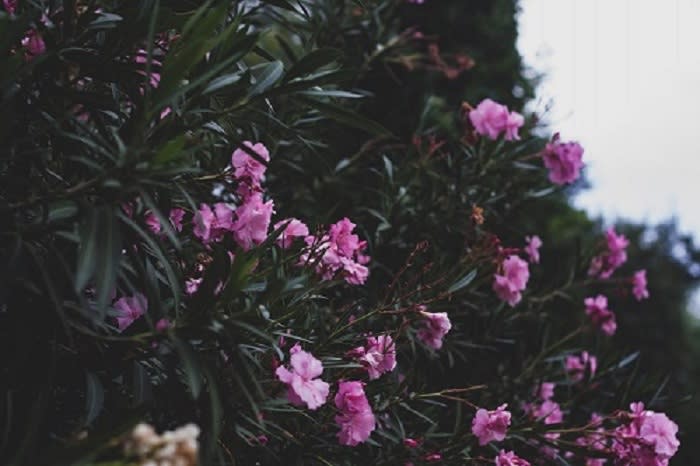 Something I find enticing about the oleander shrub (or sometimes, tree!) is that it's one of the easiest plants to take care of on this list. A hardy, vigorous plant, oleander is ideal for floriculture and groundskeeping as the showy, arresting flowers jut out of a complementary and breathtaking shrubbery. Make sure to wear gloves with this plant, but because of how simple it is to care for, you won't have to don them too often. A perennial plant, it can also function perfectly well in pots so long as it's given lots of sun. Uncomplicated to take care of but with massive rewards and satisfaction, oleander is ideal for any lawn in Menlo Park.
Rock Soapwort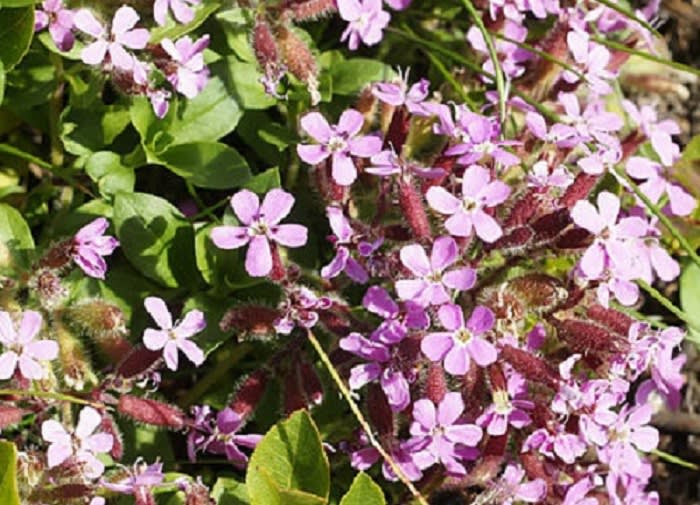 Another incredibly easy plant to take care of, Rock Soapwort is also affectionately called "Tumbling Ted" due to the ease with which it implants itself anywhere, particularly dry, unfertilized soil. Native to Southern Europe, this ornamental plant is perfect for stone walls, rock gardens, and anyone who doesn't have the time to care for finicky plants. Besides, this plant attracts pollinators and acts as an excellent groundcover for any lawn.
Euphorbia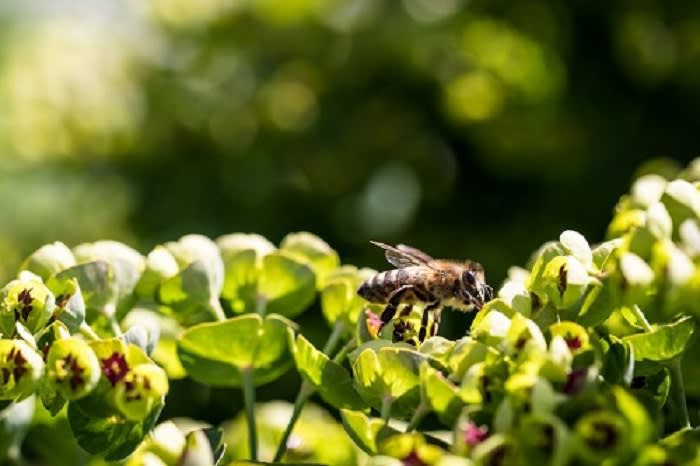 Euphorbia is a huge genus with a variety of plants and multicolored blossoms, but one thing they all have in common is the fact that they're extremely hardy, tough, and most importantly, difficult to kill. Tolerant to not only droughts but also extreme, elongated heat, euphorbia generally manifests in shrubs, making it an exemplary inclusion to any garden. Pollinators are also known to love these plants, which helps create a natural hum of activity. No matter what shade blossom or foliage you are looking for, euphorbia provides above and beyond.
Russian Sage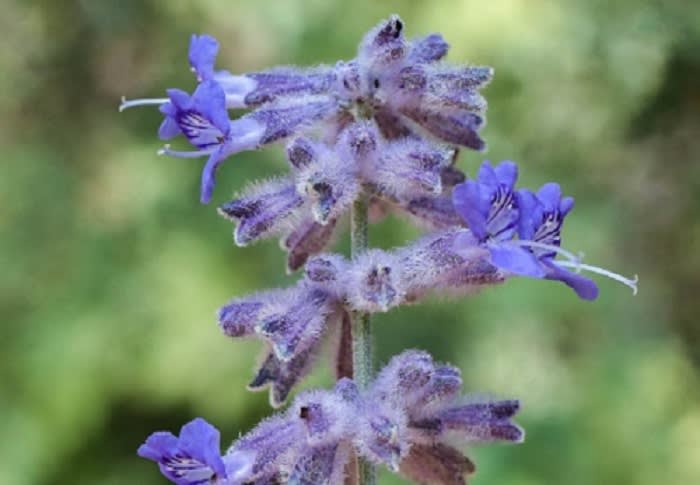 To me, the best thing about Russian Sage is the silvery-violet foliage the plant is known for, though, of course, the lavender-purple flowers are nothing to scoff at either. The foliage is also fragrant, emitting a clean sage and lavender scent. This plant craves dry, tough conditions, which places it right at home in Menlo Park since it also prefers to soak up the sun as much as possible—which isn't to say it can't stand a few hours in the shade, too. This plant is also great for droughts since after it's established, it doesn't need much water if any at all.
Red Valerian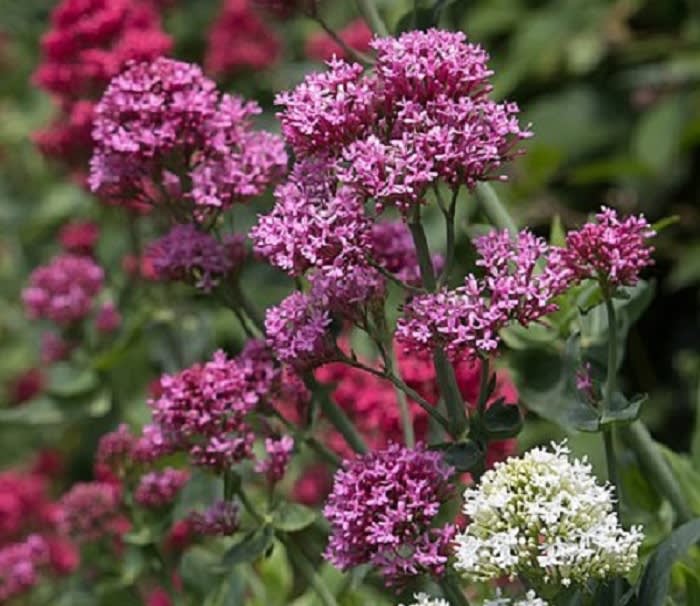 Pictured here are three different shades of Valerian, but it's most famous for its red hue, which is why it's sometimes nicknamed "Jupiter's Beard." With an exceptionally long blooming season, this bushy plant is complemented by blue-green foliage and a reputation for being one of the best border plants for any type of lawn or garden since it adheres to stone and dry soil without much trouble at all.
Rock Daisy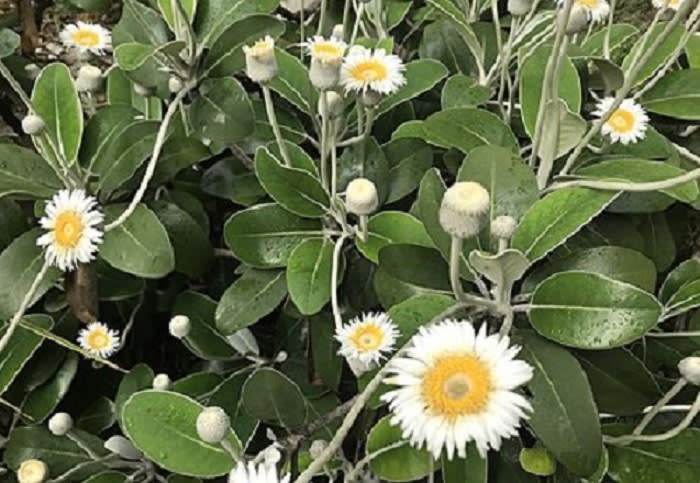 Hailing from the Perityle genus, Rock Daisies are accompanied by luxurious, wide, waxy verdant foliage that makes for some brilliant groundcover, which is great since Rock Daisies grow best in dry, rocky soil and rock gardens. A wonderfully easy way to energize an otherwise dusty landscape, these plants thrive in droughts and the sun and are perfect for any Menlo Park location seeing as these plants are native to none other than California! Beyond that, they're adaptable and full of varieties, so you can be sure to find one more than suitable for your needs.
Passiflora Caerulea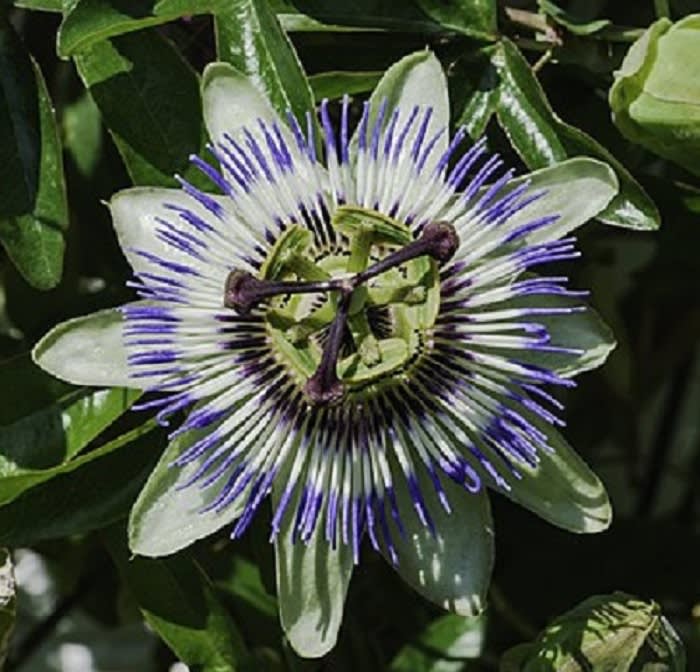 The "Passion Flower" is the national flower of Paraguay and has been called both the "Jesus Flower" and the "Flower of Five Wounds." Replete with foliage spanning pale, sage green to rich emerald, depending on the variety, Passiflora Caerulea is typically grown as floor, wall, fence, or trellis coverage since it thrives in the heat and dry climates. With an uncommonly unique flower to offset the remarkable foliage, this plant boasts palmate leaves—meaning, they have several lobes—and even bears fruit, though the taste is considered bland. The flowers typically grow in white and blue hues, which creates a glorious complementary aesthetic when the orange fruits come in during mid-summer.
If you're interested in exploring Menlo Park real estate, contact me today. I called Menlo Park my home for several years! As a top Menlo Park realtor, I am passionate about using my years of experience, market knowledge, and connections to help you purchase, sell, or market properties in and around the Menlo Park area.