Fire Insurance Issues and "Home Hardening"
As we have seen in the last few years, wildfires have increasingly become a year-round issue. Insurance companies have been hit hard and the rules, norms, and costs are all seeing some dramatic changes.
Q: What has changed about Fire Insurance?
A: Fire danger maps are created by City, County and State agencies. These risk maps will in part determine the building rules and costs associated with obtaining fire insurance. Insurance companies are now creating their own maps. As you can imagine, costs have and will probably continue to increase. In certain high risk mapped areas, insurance will only be available through what is called the FAIR plan and it will be VERY expensive
Q: What are the areas that are most at risk?
A: On the maps, areas that are defined as HIGH or VERY HIGH fire severity zones will see the greatest changes and charges.
Q: How do I find out about my fire zone?
A: Here is the address to a map of the zones: https://osfm.fire.ca.gov/divisions/wildfire-planning-engineering/wildland-hazards-building-codes/fire-hazard-severity-zones-maps/
Home Hardening...What the Heck is THAT?!
As we move through the worst of the fire season, you will start to hear a lot more about Fire Hardening and Defensible Space. New rules have just been introduced that look to mitigate damage from wildfires across the state.
Q: What is Home Hardening?
A: It is a term used to describe "hardening" a home against fire. It may involve changes to roofing material, vent screens, landscaping, trees, gutters, etc that are less prone to allowing a home to catch fire.
Q: Do the new rules apply to everyone?
A: No. These new rules only apply when you list your home for sale. There may be other local fire mitigation rules in your local community but these rules only address what you do when you SELL your house.
Q: Are all home sales covered by the new rules?
A: No. Only homes built before 2010 located in either a HIGH or VERY HIGH FIRE SEVERITY ZONE.
Q: If I sell my home in one of these zones, what will I be required to do?
A: It depends on where you are located but in general, substantial clearing may be required before you sell or may be required of the buyer within one year after you sell.
Q: What about the preservation heritage trees?
A: This is an interesting question in that local jurisdictions in general try to protect heritage trees, especially natives but the new fire regulations may require that they be removed...it will be an interesting push and pull...the answer as to who wins will play out over the next months and years.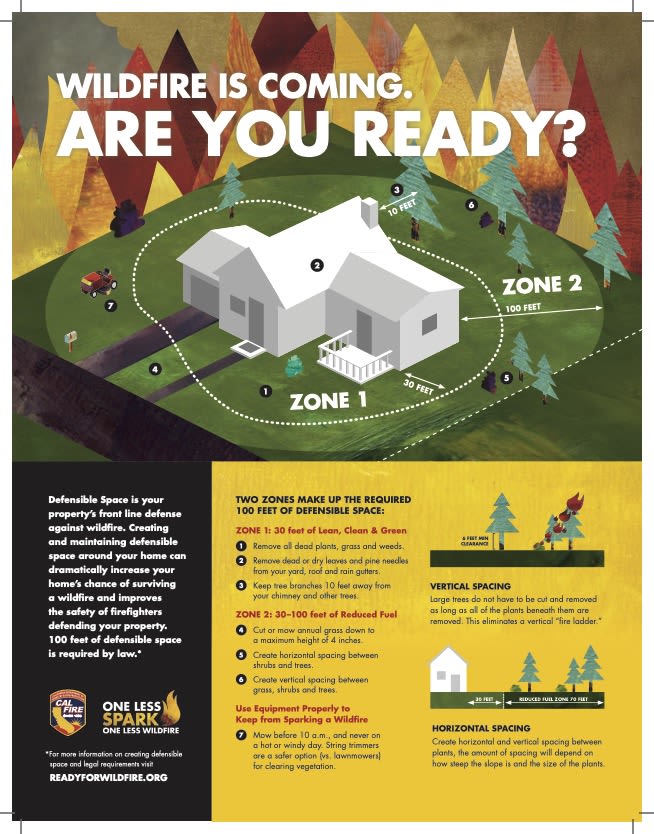 Thank you to Owen Halliday DRE01453658 for the article.